Skin Rejuvenating Treatments
Revitalize dull and damaged skin with effective, non-invasive and affordable treatments
Skin Classic High Frequency Epilation Treatment
The Skin Classic is based on the scientific principle that liquids are attracted to heat. Using a high frequency radio wave current, heat is conducted into a targeted mass of cells, vaporizing their moisture. This will kill the cells of the skin growth, which will then quickly slough off and disappear. The Skin Classic is equipped with multiple frequencies, making treatments easily tailored for each individual type of blemish. The pinpoint-size tip of the probe ensures a precise delivery of energy. Skin Classic can also go where lasers can't, like eyelids and directly below the eye! You can actually watch as years of pesky flaws VANISH in front of your eyes! The most common treatable conditions include:
Skin tags                                                      Cholesterol deposits
Cherry angiomas (blood spots)               Sebaceous hyperplasias
Broken capillaries                                      Clogged pores
Flat pigmented spots                                Cystic acne
Milia                                                             Other minor skin flaws
Micro-needling is the latest and greatest in optimal skincare  and rejuvenation therapy, scar revision and stretchmark reduction. It is non-invasive, non-ablative and requires little to no down time. Intra-dermabrasion is a new type of mechanism to activate collagen & elastin synthesis through controlled wound healing and promises to be the future of skin beautification and rejuvenation. Using twelve 33 gauge needles, microchannels are opened in the epidermis ( top layer of the skin) allowing for collagen-stimulating wound healing, and optimal topical product absorption. The treatment is gentle, relatively pain free and is safe for all skin types.
Pixel Laser Skin Resurfacing
The Alma Harmony Pixel is a sub-ablative skin resurfacing technique that stimulates the growth of new collagen in the underlying layers of the skin. It is effective on fine lines and wrinkles, acne scars, pores, stretch marks and discoloration caused by sun damage. It is safe for many different skin types and tones.
Through a series of treatments, the IPL photofacial is an effective method of correction for dark sun spots, freckles and birthmarks, redness and telangiectasia (small spider veins usually found on the cheeks or nose) on virtually any area of the body. The photofacial is only recommended for skin Fitzpatrick types 1-3. For information about Fitzpatrick types please look at the "Know your Fitz" page.
Botox is a safe and effective method of wrinkle correction for women and
men. Botox can be used to eliminate crow's feet, lines on the forehead and the lines that form between the eyes commonly known as "11's". Botox is administered in units and is personalized to every client by the medical provider. Botox is not recommended for people who have been diagnosed with any neuromuscular disease, are pregnant or nursing, or have sensitivities to lab derived bacterial products.
Instantly take years off of your face with Juvederm or Juvederm XC dermal filler. Administered by a skilled clinician, the most common areas of correction with filler include: nasolabial folds, (more commonly known as parentheses), thin or uneven lips, and "marionette lines" that form around the mouth causing a constant frowning look. Dermal filler is a relatively painless and cost effective way to transform your face without surgery.
This chemical peel from the Vitality Institute is a mid-depth, medical grade peel that will improve the  tone and texture of dull, damaged skin, lighten or eliminate pigment, (including melasma), reduce the appearance of pores, soften fines lines and wrinkles,  minimize scars and can assist with the eliminaton of acne. The VI Peel can be used on all skin types, and is an ideal alternative skin resurfacing method for people who are not candidates for laser procedures. With several different products to choose from, VI Peel regimens are customized for every individual based on skin type and problem areas.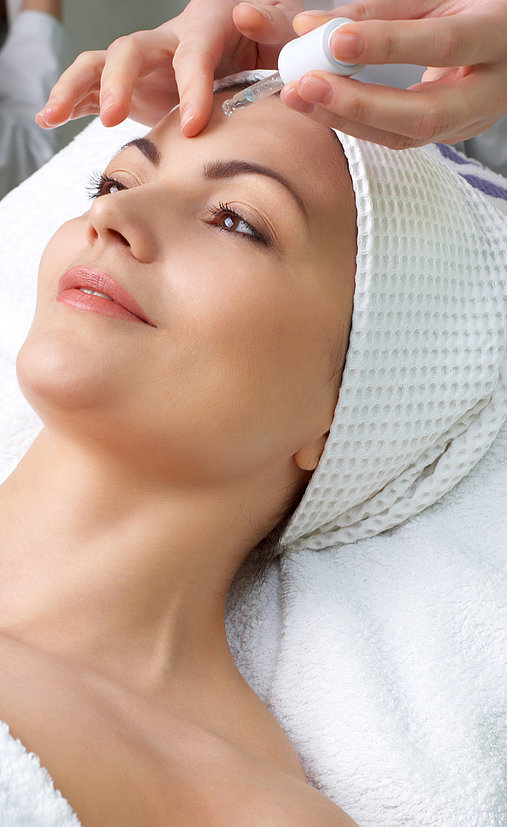 For a complete list of Skin Rejuvenation prices click here
We are now offering the Brilliant Distinctions Program by Allergan! Reward yourself with savings on future Botox and Juvederm purchases! To learn more or sign up visit https://www.brilliantdistinctionsprogram.com/